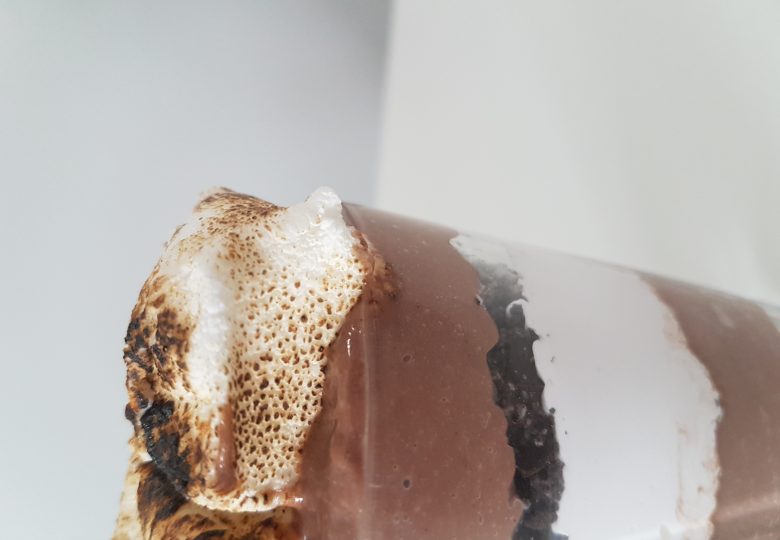 Reklame// Thanks for the positive feedback on my story ? 100% of you want the recipe: so here you go ???
Ingredients:
1 Digestive ( large graham cookie)
2-3 thin Oreo cookies
100 grams of chocolate pudding
50 grams of marshmallow fluff creme
1 jumbo marshmallow
I chose to buy chokolate pudding and use the ready made Marshmallow Fluff from @spreadthefluff – it makes it easier and faster which gives me more quality time with my son ?
Directions:
?Crush the cracker inside a plastic bag – up to you if you want it chunky or pulverized. Add them to the bottom of the glass.
?Top with half of the chocolate pudding (50grams), press it down with a spoon to remove any gaps.
?Top with marshmallow fluff creme.
? Crush 2 – 3 thin Oreo cookies inside a bag ( I love it crunchy) and sprinkle them on top of the marshmallow fluff creme.
?Add the remaining chocolate pudding. ( 50 grams)
?Toast your marshmallow over the burner – it is easier to grip with grill tweezers while it melts. Smash the toasted marshmallow on top of the final layer of pudding.
? Decorate your pudding with 2 oreo cookies and you are ready to serve immediately ?
Enjoy your pudding ? feel free to tag me with your pictures on Instagram for reposts, #dorotheauniverse
Hugs & Kisses
X
Dorothea